Rep. Jim McGovern Boosts B4A at Northampton Forum
Northampton, October 16 - A coalition of over a dozen Western Massachusetts organizations sponsored a forum on the Budget for All at Northampton High School last night, attended by about 125 people. Mayor David Narkewicz of Northampton opened the forum.
Jeff Napolitano of AFSC moderated, reminding the guests that MLK condemned militarism and saying that Massachusetts wants social uplift, not spiritual doom.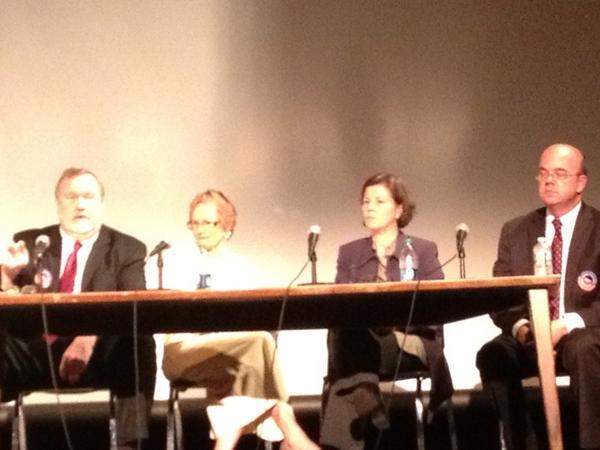 Reps. Peter Kocot and Ellen Story, Jo Comerford, and US Rep. Jim McGovern
Jo Comerford of the National Priorities Project reminded the audience that a budget is a moral document. What are our priorities? She asked the audience to fall in love with budgets, because they are important! Jo then presented a detailed briefing on the Congressional Progressive Caucus' Budget for All. Check out the slides at https://dl.dropbox.com/u/5578602/NPP%20B4A%20Slides.ppt.
Holyoke City Councilor Aaron Vega and Berkshires activist Scott Laugenour gave their support to the B4A. Both are currently candidates for State Representative.
State Representatives Ellen Story of Amherst and Peter Kocot of Northampton declared their support as well. Kocot gave an in-depth presentation the seriousness of the unemployment problem in Western Massachusetts and on on work being done in the Massachusetts Legislature to support crucial social programs such as job training and others.
Rep. Jim McGovern gave his full support to the Budget for All referendum. "This referendum is so important. Change won't come from Washington but from the people," he said.
"Do people understand what the Ryan budget means?", he continued. "People are hungry in this country. National security means jobs, not nuclear weapons or wars… The Republican budget represents the all time high of recklessness and stupidity. We need to expand the Progressive ranks in Congress….
"War with Iran would be a huge mistake. The loose talk about war is unbelievable. We're just finishing one war… We shouldn't keep troops in Afghanistan one day longer. The Karzai government is unbelievably corrupt…
"You are the real patriots. We need a new activism, a budget that reflects the values of this country…. This [ referendum ] ought to stiffen the backbone of some of those representatives. I look forward to reading in Congress the list of communities that has passed it."
Dozens of those attending the meeting picked up posters, yard signs, and flyers to distribute, and signed up to work the polls on Election Day.